Coaching is a commitment to excellence. It is both powerful and impactful and can be highly transformative. Coaching is a process in which coachable moments are created to draw out distinctions and promote shifts in thinking and behaviour. Coaching thus provides a unique opportunity to focus and move forward on one's personal, professional or organizational goals.
This is achieved
through the exploration of ideas and candid dialogue while developing self-awareness and insight,
by redesigning a new narrative and supporting practices, then
by taking action towards implementing defined goals with clarity and confidence.
Coaching is now identified as a critical leadership and management competency with employees of all levels requesting coaching to support them in their development plans and with managers leaning towards peer-coaching to learn from one another. Companies big and small have come to witness how coaching can improve organizational resiliency and effectiveness in change.
Benefits of Coaching
Coaching works because it is a participative process. When individuals are actively engaged in the learning process and in coming up with their own creative solutions, they are able to learn and to develop new habits more easily. Coaches will encourage this level of involvement by having the client implement new practices at the end of each coaching session.
Through its numerous studies, the International Coaching Federation (ICF) has demonstrated that coaching has led to the following improvements:
Self-confidence by 80%
Interpersonal relations by 73%
Communication skills by 72%
Work performance by 70%
Work-life balance by 67%
Team effectiveness by 51%
Furthermore, research and experience show that employees perform better when positively coached, rather than being overly evaluated.
Coaching Services
Our services include executive and management coaching with a focus on organizational and professional goals, and personal coaching with a focus on personal development goals.
We offer coaching for:
Leaders
Individuals
Organizations
Transformation
Groups
Teams
Mindfulness
… And
Coaching retreats
Tailored Workshops
Henry Mintzberg's CoachingOurselves programs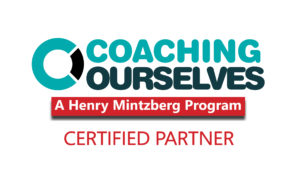 CoachingOurselves is a leadership and management skills development formula based on peer learning. More than 80+ modules, moderated by a certified facilitator, guide reflection and dialogue between peers. CoachingOurselves is a cost-effective solution to improve both leadership and organizational effectiveness and build a culture of continuous learning and collaboration.
How We Work
We take you to a place of greater clarity, insight and results.
We listen deeply to the underlying narratives and themes that shape the way you see and bring to light what does not serve your purpose.
We partner starting with your desired outcome, we co-design a pathway that leads to your success.
We help you cultivate new skills with Presence, Purpose, Clarity.
Meet our Coaches
Our professionals are highly trained in the art and practice of coaching. Educated from leading ICF certified schools and programs, they have developed strong capabilities to listen deeply, ask powerful questions, and completely support their client down the chosen path. All of our professional coaches stem from diverse business backgrounds and industries. They bring to their coaching their unique experience leveraging mindfulness to help you prosper.
We are a tightly knit group of coaches who bring heart and expertise to their profession. We work together, learn from one another and are motivated by the same purpose to help clients explore new territory, fully embody learning through practice and experience the powerful shift that occurs when results emerge.
Important Distinctions
Coaching is not therapy or counseling, although coaching may use similar communication processes. Coaching is about creativity and action into the future.
Coaching is not mentoring or consulting, although coaches may use their experience, diagnose situations and give opinions or advice at times. Coaching uses all of one's life experiences and expertise to enable the person being coached to create and develop their own best practices.
Coaching is not training. Coaches give information and may provide guidance. However, coaches will first and foremost encourage those they coach in coming up with their own solutions. Coaching can support on-going workforce training. It is a known fact that without follow-through in the workplace, training loses its effectiveness rapidly, and often fails to achieve the lasting behavioral changes needed. Because coaching is a process, it is a valuable continuum to training to ensure that the new knowledge imparted, actually becomes learned behavior.
 Coaching is a game changer. To explore and co-create opportunities and solutions, please contact us.